A medium size Non-Profit in Ottawa, the NJI employs about 60 people and has a primary function of providing educational conferences for members of the Canadian judiciary. The organization's largest department is the Program Delivery Team, 14 individuals tasked with the delivery of 60-70 in-person meetings a year.
For a few years, it felt like their once stable team was suddenly in the grips of constant transition. Two senior planners retired, two others left for other organizations and many of the remaining staff were cycling through maternity leaves.
To mitigate the knowledge loss, a stable solution was required.
The Process involved 5 core steps:
Activities Audit: Really Understand what you do. No, I mean REALLY understand. Figure out the core output and then break it down step by step by step. And for each, identify the tasks that get done, by whom and how as well as what resources exist.
Tool Design and Build: Create a container, and design an architecture. As luck would have it, the organization was rolling out SharePoint as this process was being undertaken. So the tool created was able to be in SharePoint, one of the most powerful document and process management tools around.  The tool we created was searchable and linked to relevant tools and documents and categorized by phase of planning as well as type of task.
Populate with Explicit Knowledge: Fill it with what was already documented.
Populate with Implicit Knowledge: Fill in the blanks of what had never been documented. This was the biggest phase and it was done by surveying staff, canvassing for best practices and working with experts to create checklists and tools, as well as formally documenting some processes and writing policy where there were gaps.
Roll out and Review: Curate on a regular basis; prune the old, add the new. Three years on and the tool is still actively used for new and seasoned staff, because management prioritise using it as a tool to keep staff informed of new policies and directions and because it's consistently updated with new insights from staff.
Final Product…
The final product's main landing page looked like this (sorry that it's quite blurry – but you get the idea!):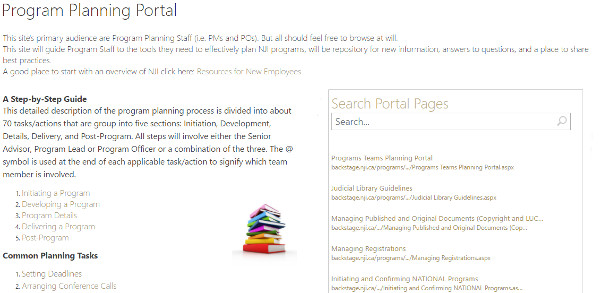 The Program Planning Portal and the insights, context and resources contained within it are now a core tool. It is in the training of new staff and as a resource for existing staff. Sharing knowledge and integrating new insights into the repository has become second nature to both management and staff. the team have noticed many benefits including increased efficiency and more time for creativity as well as staff feeling more confident in their decision-making.
Want to know more about the benefits of a Knowledge Management System and Strategy at Non-Profit organizations?
Check out our post on the Case for KM.
Think a system like the NJI's might work for your Non-Profit? Contact Coherent Solutions to learn more.